Ghostfather – Now Boarding (2011) – Review UPDATED by Logan Lee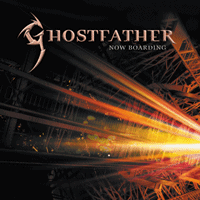 GHOSTFATHER is a heavy metal/hardrockact created in 2010 by keyboardist Fred Colombo (Spheric Universe Experience) and guitarist Olwe (Artefact). This information I've taken from their official Facebook page.
Personally, I knew those guys from Spheric Universe Experience would start, sooner or later, new projects. I have listened carefully to all 3 tracks available (listed below) and I must say that now I am very curious to hear more from their project Now Boarding. You may capture several influences on this project, from hard rock to pure prog moments, and that's not something to be surprised if you look at their background (personally, I find Spheric Universe Experience a very interesting band and I believe that France has been very generous with the prog scenario lately).
It did surprise me the ability of the other members of the band: Soda Runk (vocals); Ranko (drums); Alexis (Bass) and Vince Benaim (guitar). Vocalist Soda has a very particular voice and way to approach the music which gives the tracks an extra strength.
While we are waiting for more, I'll will leave my opinion based on these 3 great tracks, which is a full 8,5. Now go here http://www.perfectprog.net/profile/GHOSTFATHER and enjoy.
Update on may 30th :
Finally I got the chance to hear the rest of this brand new project and the other 8 tracks are as good as the previously released tracks. It is very hard though for those who are not keyboard lovers (like I am) to fully immerse on the hearing session but if you give a try you may get surprised. Once you passed this barrier (even if I think it's amazing) you might face that these guys are serious about their sound and have a great prospective ahead of them.
I found the entire album very entertaining, which good melody and arrangements, and I surely hope to see them live (since we are almost neighbors) to see if they can maintain such sound quality on stage (which is for me the true expression of a band).
If this is the first time you are hearing Ghostfather, go slow and enjoy these tracks separately since another great feature is the composition complexity of Now Boarding, but once this first time is over, try listening it in a row to enjoy all the prog influences they put in this first album.
The vote remains the same (8,5) but now I am not left with an impression that Ghost Father has everything to go on but with a certainty of that. It is a band to keep two eyes on.
Tracklist:
01. Elecktra Panther #13
02. Now Boarding (Locomotivated)
03. Alive
04. Last Hope
05. Waiting For the Dew
06. Ungrund
07. Mindland
08. Sand Turned into Glass
09. Old Legacy
10. Beauty
11. Pegasus Fantasy (Saint Seiya opening)


Add Comments, Reviews, Updates, Links, News and Corrections About this Band:


Only registered users can write comments.
Please login or register.
Powered by AkoComment 2.0!